KEMPA Fall Scholastic Journalism Conference: Innovating in a Time of Crisis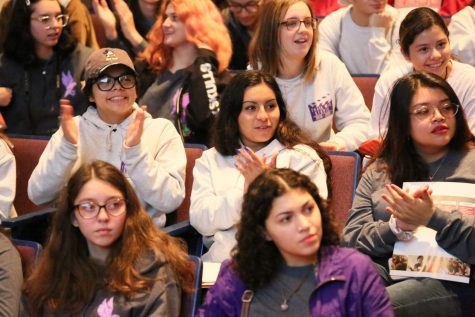 KEMPA will hold a virtual, live Fall Conference on Friday morning, Oct. 16, 2020.  Far from being a slimmed-down version of our regular event, this conference not only lets you attend three live sessions online, but also gives you access to every presentation recorded that day.
Our theme, INNOVATING IN A TIME OF CRISIS, emphasizes the many sessions that focus on working and publishing remotely. All sessions will be presented via WebEx through UW-Whitewater. Students and advisers will be able to attend sessions from school or from home, via their device of choice.
"
Registration is open! See link below."
— Linda Barrington
The opening session will begin at 8 a.m. with awards and announcements.  (Publication plaques and certificates will be mailed after the conference.) Each of the three sessions will last 45 minutes, starting at 8:45, 9:45, and 10:45.  Advisers and presenters at 11:45 will then take part in the yearly KEMPA meeting, including awards presentations, elections, announcements, etc.   There are no late fees this year.  You can register right up to the day before the event. Registration fees remain the same as for an in-person event because you will receive the same content with access to all the presentations while saving on travel and food costs. You will actually save money in comparison to other years.
$15 per student and adviser for KEMPA-member publications. (If you wish to become a regular member, use this KEMPA membership form 2020-2021 (Membership: $55) and send it to Bob Kay at address on the form.)
$20 per student and adviser for non-KEMPA members.  ($40 COVID-special BASIC membership with no critique provided. Use this form: 2020-2021 Basic KEMPA membership form.)
NO LATE FEES this year. Register by Oct. 15 at one low rate.
All sessions will be presented live with the ability to ask questions (typed in via chatroom) during the sessions. Most sessions will be recorded and available to all Fall Conference attendees after the conference. The list of scheduled sessions is available for download here: Fall 2020 program updated with changes Oct 15.  Registration is now open.
BONUS for advisers registered by Oct. 1:
Join us for a Google Meet chat on Oct. 3 with Vince Filak, PhD, professor at UW-Oshkosh, award-winning teacher, scholar, workshop presenter. Bring your questions, topics and be ready to chat.
When you get ready to register, you will need this information:
Questions asked:
Name, address, email
School Phone
Adviser's email(s) (list all)
Adviser's name(s) (list all)
Principal's email
Principal's name
Publication type
Publication name
Tell how you heard about this event
Acknowledge  that you have met all the minimal technology requirements to participate in this event
Acknowledge that you understand CES is not responsible for troubleshooting technology software; other than the registration system software
List any Accommodations/Comments
What You Will Need to Attend
A computer, tablet, or smartphone with speakers
A reliable internet connection
To attend Annual Meeting: microphone or webcam– plan to use them, but these are not required.
Web Ex will be the hosting platform for this event.  Meeting links for joining will be available a week prior to the event.  UW-Whitewater will email you and provide the link to access sessions.
Advisers, it's not too late to join us as a presenter. We'd like sessions both for students and for the advisers. Your session does not have to match the theme, but we especially welcome those that do. We welcome proposals that would focus on any aspect of journalism, including advising, photography, writing, newspaper, magazine, yearbook, online publishing, advertising and more.   You may have a lesson you have taught online that would be perfect for this format.  We'll work with you to decide best sessions to present if you wish to adjust. 
How-to videos will be available for presenters in advance from Amanda Aegerter at the Continuing Ed Dept. at UW-Whitewater. Additionally, Amanda will do a practice run with you a week to 10 days in advance of the conference to be sure everything works and you are confident using WebEx as the platform for the event.
Presenters have the choice of receiving a modest stipend or donating it to KEMPA. Email Linda Barrington to let her know if you are interested. If you want to repeat a session, let her know.  
Leave a Comment