Adviser of the Year Awards
Annually, at the Fall Scholastic Journalism Conference business meeting of KEMPA, the organization honors Advisers of the Year. Advisers may be nominated by their publication staffs, their administrators or their peers. Nominations should describe, in specific detail, what the adviser has done and/or accomplished that sets that person apart in the minds of the nominators. The Awards Committee makes final decisions.
Use the KEMPA Adviser of the Year form to nominate a KEMPA adviser who has gone above and beyond to support student journalists. For your convenience, you can also nominate someone using this Google form.
Advisers may also nominate themselves by using this KEMPA Adviser of the Year self-nomination form or this Google self-nomination form.
The nomination deadline is midnight on June 15, 2020.
The 2019 Nancy Becker Newspaper Adviser is Brenda Smith, Grayslake North High School, adviser of the Knight Times. Smith received this award at the annual Fall Journalism Conference at UW-Whitewater on Oct. 11, 2019.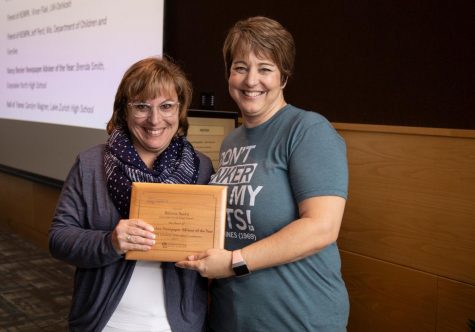 Brenda Smith (left) receives the Newspaper Adviser of the Year Award from Beth Marshall, KEMPA President.
(Photo by Joe Koshollek)
2019 Newspaper:  Brenda Smith, Grayslake North (IL) High School
2018 Newspaper: Lindsay Skatrud, Brookfield East (WI) High School
2017 Newspaper:  Dennis Brown, Huntley (IL) High School
2016 Newspaper:  Michael Gluskin, Libertyville (IL) High School, and Matthew Smith, Fond du Lac (WI) High School
2015 Newspaper: Patrick Johnson, Antioch Community (IL) High School, and Rachel Rauch, Homestead High School (WI) / Yearbook:  Cindy Renaud, Harborside Academy, Kenosha, WI
2014 Newspaper: Evelyn Lauer, Niles West (IL) High School, and Carolyn Wagner, Lake Zurich (IL) High School / Yearbook: Cathy Newton, Wausau West (WI) High School
2013 Newspaper: Charles Pratt, Niles North (IL) High School / Yearbook: Tom Juran, Brookfield Central (WI) High School
2012 Len Fike, D.C. Everest High School (WI)
2011 Jill Cook, Brookfield Central High School (WI) / Karen Frank, Stillman Valley High School (WI)
2010 Kathleen Burke, Regina Dominican High School (IL)
2008 Mike Doyle, Belvidere North High School (IL) / Tracy Brogelman, Grafton High School (WI)
2007 Barbara Erickson, Jefferson High School (IL) / Fay Hubbard & Andy Wolfe, Superior High School (WI)
2006 Dave Wallner, Stoughton High School (WI) / Jeff Willauer, Waunakee High School (WI)
2005 Elyce Moscella, Brookfield Central (WI) High School / Audrey Kemp, D.C. Everest (WI) High School
2004 Peter Guaquinta, Glenbard North (IL) High School / Patricia Benedict, Guilford (IL) High School
2003 Tammy Rademacher, Waunakee (WI) High School / Kay Sargent, Wisconsin School for the Deaf
2002 Sandra Gruen, Wheeling (IL) High School / Bob Kay, Grayslake (IL) High School
2001 Joan Joas-Faas, Muskego (WI) High School / John Culbertson, Waterloo (WI) High School
2000 Linda Barrington, Wauwatosa East (WI) High School / Elizabeth Wilson, Prospect (IL) High School
1999 Michael Gordy, Antioch (IL) High School / Marcia Sigler, Wisconsin Academy (WI)
1998 Bob Chesney, Ozaukee (WI) High School / Sandy Jacoby, Kenosha Tremper (WI) High School
1997 Mary Mueller, Maine West (IL) High School / Mark Thompson, Antioch Community (IL) High School
1996 Katherine Conover, Janesville Parker (WI) High School / Lisa Peterson, Janesville Parker (WI) High School
1995 Susan Hathaway Tantillo, Wheeling (IL) High School / Sue Tedell, Buffalo Grove (IL) High School
1993 Tom Gebhardt, Prospect (IL) High School / Pat Jonas, Platteville (WI) High School
1992 Jan Kohls, Fort Atkinson (WI) High School / Dave Wiegand, Wausau West (WI) High School
1991 Ron Beem, Byron (IL) High School / Jan Kohls, Fort Atkinson (WI) High School
1988 Nancy Becker, Milton (WI) High School
1987 Marilyn Swanson, Auburn High School, Rockford (IL)