Friend of KEMPA Award
Use this form, Friend of KEMPA form 2017, to nominate a Friend of KEMPA.  Deadline: June 15.
The Friend of KEMPA award is a way for the Board of Directors to honor and recognize people who have contributed extraordinary time and/or effort to the organization.
This award, when given, is part of the annual meeting held at the Fall Scholastic Journalism Conference.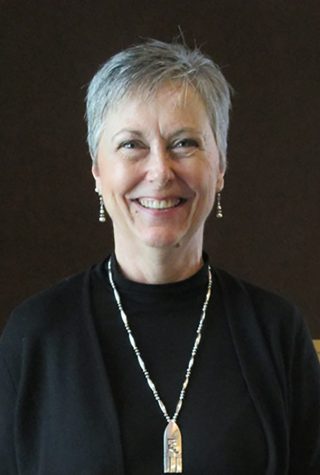 The 2017 Friend of KEMPA is Marquette University, Diederich College of Communication, Ana Garner and Karen Slattery. They will be recognized at the 2017 Fall Scholastic Journalism Conference on Oct. 13, 2017 at UW-Whitewater.
The Diederich College at Marquette University has been KEMPA's home for our annual summer journalism workshop for the past three years. Each year the camp has needed more technology and space, and the college and its faculty have consistently obliged. Five years ago when KEMPA first began the conversations about moving camp from its original home at the University of Wisconsin-Whitewater, Karen was the initial point of contact. She led the charge within the college to coordinate faculty speaking at Fall Conference, developed budgets and plans to pitch for the move, and served as a sounding board for KEMPA's needs.
Karen and Ana were constant supports to develop the workshop's programming, given the spaces and accommodations Diedrich College provided. The two wanted to make sure that not only was the college the proper home for KEMPA Kamp, but it was to be the best home the camp ever would have had. And they've never disappointed. They've done whatever they can to manage logistics within the college, coordinate materials for college visits, and double check how the camp was going just because.
The Diederich College has been an ideal home to KEMPA's  Summer Workshop and it will continue to be so for the camp as long as they will allow us. Because of the hospitality and excellence of space, venue, and time, we honor the Diederich College as the 2017 Friend of KEMPA award winner.
1991 Lou Zahn, Continuing Education, UW-W
1992 Dr. Tom McLeRoy, Dean, Continuing Education, UW-W
1994 Dr. I.W. Schaffer, Emeritus Executive Director, UW-W / Robert Tottingham, UW-Madison Extension
1994 Jim Eloff, Continuing Education, UW-W / Michael Schudrowitz, Nikon Corporation
1996 Mary Markus, Continuing Education, UW-W
1998 Peter Conover, Cable 6 Coordinator, UW-W
1999 Cindy Wandschneider, Walsworth Publishing / Ken Whittemore, Josten's Publishing
2000 Larry Sherman, Continuing Education, UW-W
2001 Kendrick Johnson, Madison, WI
2002 Rita Schopen, Milwaukee, WI
2003 Doug Wojcik
2004 Rick Wood, "Milwaukee Journal/Sentinel"
2005 Law Firm of LaFollette, Godfrey and Kahn
2006 Betsy Schroeder, Lake Geneva Elementary School (WI)
2008 Mara Lee Searing, Continuing Education, UW-W
2009 Eric Field, Continuing Education, UW-W
2010 Mike James, Walsworth / Pat Rand, Jostens / Maureen Olofsson, Herff Jones
2011 Randy Swikle, Johnsburg High School (IL)(retired)
2012 Bryce Ulmer, S.C. Johnson and Son, Inc. and Corporate Images, Doug Wojcik, Stevens Point Journal (WI)
2013 Kellie Doyle, Lake Forest College (IL)
2014 Jayme Bogner, Jostens
2016, SNO Sites, Jason Wallestad
2017, Marquette University, Diederich College of Communication, Ana Garner and Karen Slattery