Media Award
Use this  KEMPA Media Award form 2017 to nominate a member of the media.  Deadline: June 15.
To recognize the assistance that high school journalists receive from the professional press, the Kettle Moraine Press Association Board of Directors has instituted the Media Award. This award is presented as part of the annual meeting held on the day of the KEMPA Scholastic Fall Journalism Conference.
Adviser-members of KEMPA may nominate any printed publication, electronic media or specific individuals involved with these facets of the professional press. Nominations must include specific activities or services performed by this individual or institution which have given encouragement or assistance to high school publications.
The 2018 Media Award winner of the year is James Nelson, Milwaukee Journal Sentinel. He was recognized at the 2018 Fall Scholastic Journalism Conference on Oct. 12, 2018 at UW-Whitewater.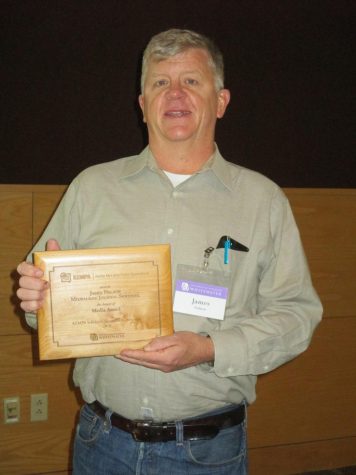 1983 John McCullough, WTMJ Channel 4, Milwaukee, WI
1984 Hank Koshollek, "Capital Times," Madison, WI
1985 Mike Flaherty, "Milton Courier," Milton, WI / Bill Robbins, "Wisconsin State Journal," Madison, WI
1987 Christine Blumer (Spangler), "Jefferson County Daily Union," Fort Atkinson, WI / Rob Zaleski, "Capital Times," Madison, WI
1988 Michael St. John, "Wisconsin State Journal," Madison, WI "Stoughton Courier Hub," Stoughton. WI
1989 "Capital Times" staff, Madison, WI / WISC-TV Channel 3, Madison. WI
1991 Jake Stockinger, "Capital Times," Madison. WI
1993 Robert Wills, "Milwaukee Journal Sentinel," Milwaukee, WI
1993 "Jefferson County Daily Union," Fort Atkinson. WI / Rick Uhlman, "Wisconsin State Journal, Madison, WI
1995 Scott Angus, "Janesville Gazette," Janesville, WI
1997 Joe Koshollek, "Milwaukee Journal Sentinel," Milwaukee, WI / Staff of "Capital Times," Madison, WI
1998 John Nichols, "Capital Times," Madison, WI / Doug Wojcik, "Stevens Point Journal," Stevens Point, WI
1999 Staff of "The Janesville Gazette"
2000 Natasha Kassulke, Wisconsin State Journal
2001 Dan Needles, WISN Channel 12, Milwaukee
2002 Kregg Jacoby, Milwaukee, WI
2003 The Waunakee Tribune
2004 Mike Konopacki, Capital Times, Madison, WI
2005 William Wineke, Wisconsin State Journal, Madison, WI
2006 Peter Fox, Wisconsin Newspaper Association
2008 Delia Chiapeta, The Kenosha News
2009 Danielle Guerra, Northwest News Group of Greater Chicago
2010 Ken Miller, Wisconsin State Journal, Madison, WI
2011 Rick Wood, Milwaukee Journal-Sentinel
2012 Jason Rice, WMTV, Madison, WI
2013 Wisconsin Newspaper Association Foundation, Madison, WI
2014 Jed Carlson, Superior Telegram, Superior, WI
2016 Steve Lund, Kenosha News, Kenosha, WI
2017 Mike Konopacki, Capitol Times, Madison, WI (retired)