Cathy Kuhlmeier Frey interview reveals surprising details of Hazelwood court case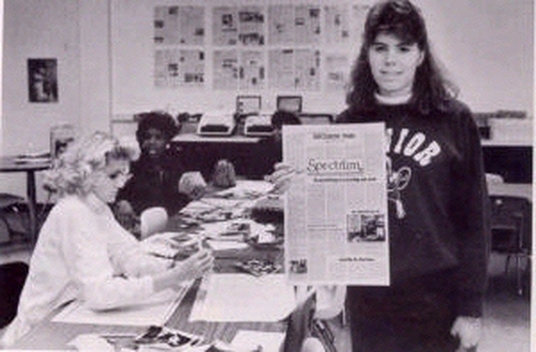 by Linda Barrington, MJE
The story leading up to the Supreme Court decision of Hazelwood School District v. Kuhlmeier is not as cut and dry as many textbooks make it.
As the host of "Education Matters" on public radio station WGTD, UW-Oshkosh Assistant Professor, Steven Brown, held an exclusive 45 minute interview with Cathy Kuhlmeier Frey to talk about this landmark case. Professor of Law, Daniel Weddle, joined in from the University of Missouri-Kansas City.
The interview is only about 40 minutes long, suited for classroom use.  I suggest teachers listen to the entire interview, noting the times of sections most pertinent to discussion in their classes.  I found the last third to be most interesting because I had been unaware of the importance of the the fact that the principal had not actually read the stories before having them removed.
This program aired Saturday Jan. 20, and can be accessed at https://www.wgtd.org/program/talk/education-matters  Take time to listen today.  And bookmark the program so you can access it easily with your students!