Barrington Claims JEA Highest Honor for 2013 in Boston
by  Sandy Jacoby
KEMPA's Executive Director Linda Barrington has made us PROUD, not only for the many KEMPA events she has directed for Illinois and Wisconsin advisers and students, but also for the national leadership she has given to earn Journalism Education Association's prestigious Carl Towley Award 2013. JEA's highest honor, the Towley Award, is presented "to a JEA member whose work is unusually beneficial and of superior value to the national JEA and to scholastic journalism."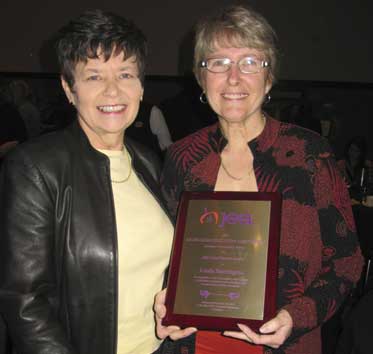 Barrington accepted her award at the JEA Fall National High School Journalism Convention in Boston, Mass. As is her style, her acceptance speech focused on the national JEA Mentor program with which she is most associated and the mentors with whom she is consistently working to promote, not her own achievements. Barrington's combination of state and national leadership in student media education and her successful classroom work in journalism, having retired from Wauwatosa East HS and currently teaching at Mount Mary University, "clearly impressed the JEA Awards Committee."
At the national level, Barrington co-founded the JEA Mentoring Program in 2007 and leads as the committee co-chair. She served as the JEA liaison to the National Council of Teachers of English from 2004-2011. At the state level, she has been Director of the Kettle Moraine Scholastic Press Association's Summer Journalism Workshops, served as President and Vice-President-Membership. By the KEMPA Board, she was selected as KEMPA Executive Director in 2011. She also serves as a Wisconsin Mentor.
Stan Zoller, past KEMPA president, JEA State Director-Illinois, newly elected JEA East Regional Director and retired Illinois adviser, illuminated Barrington's work with KEMPA in his nomination letter, according to jea.org. "He wrote that he struggled to find the right word to describe Barrington – dedicated … passionate … hard-working … — but he settled on the word 'mentor,' whether used as a noun or verb, as the best way to sum up Barrington's contributions." He also wrote that it has been her vision and excitement that has kept KEMPA's workshops and other support programs constantly improving.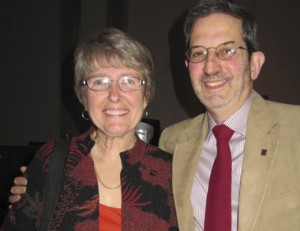 The Carl Towley Award, JEA's highest tribute to a member, is given in honor of its first executive secretary. Towley's 1959 yearbook staff made a surprise dedication to their adviser Towley. It read, "Dedication:
To one who teaches the fundamentals of civic responsibility
To one who practices these fundamentals through service to the community
To one who perfects these fundamentals by living them each day"
Those of us in KEMPA who know and work with Linda Barrington know no person who more embodies these same qualities in scholastic journalism each day. CONGRATULATIONS, Linda Barrington, we are proud!
Listen to her speech and read JEA's article about Barrington's award.
Click here to read the text of her speech.