2016 Summer Workshop: a Beautiful Endeavor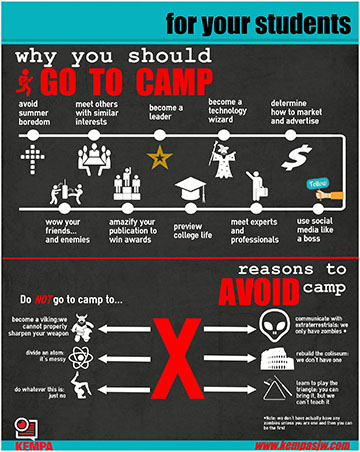 Hang on for a minute...we're trying to find some more stories you might like.
By the teachers in the Media Advising class:  Erik Farrar, Elizabeth Miller, Danielle Olejniczak, Kia Sosa and Laura Streyle
This year's KEMPA Summer Journalism Workshop can simply be described as a "Beautiful Endeavor," which just so happened to be the camp theme for the year. Six advisers, 63 students and seven interns attended, July 17-20, at Marquette University.
"The theme of camp is based off of the idea that every journey has a silver lining and journalism itself is one of the most beautiful of all," Director Patrick Johnson said to adviser Erik Farrar.
For over 40 years, the Kettle Moraine Press Association has worked to encourage aspiring journalists to hone their craft in an intensive Summer Journalism Workshop, according to adviser Kia Sosa's research.  Now held at Marquette University, KEMPA SJW provides students with workshops, lectures, field trips and other opportunities to work on critical journalism skills. The students are divided between five class options: design, digital/social, photojournalism, writers workshop and yearbook.
From presentations to critiques to day trips at the zoo, students learned and practiced skills, according to adviser Danielle Olejniczaki. She interviewed Chloe Falcon from Harborside Academy in Kenosha, Wis.
"Coming to the workshop I knew we would be working with very talented people and I expected to learn a lot – and I did – but the (instructors) are far more amazing than I expected," Falcon said.
See Olejniczak's video with a number of students, explaining why they liked KEMPA's Summer Workshop: https://drive.google.com/drive/u/0/folders/0B40g7IA8wTnbSE1wQjY2alk2eFU
Throughout the four days, Farrar said, students wrote stories, practiced photography skills at the places like the zoo, conducted interviews at the Milwaukee Public Market and learned from professional journalists like Mike Sager, author and writer at Esquire magazine, who spoke to students about what being a writer is like and offered some valuable advice. Pointing to his balding head, Sager said, "Journalism has a lot to do with your mind, how you think and interact with people."
Adviser Laura Streyle from Stoughton (Wis.) High School discovered more about Sager's interaction with the students in her interview with Vivian Walbrun, a senior at Brookfield Central (Wis.) High School. Walbrun was one of a small group of advanced students selected to attend a workshop with Sager.
"He really talks with us. Rather than being at a podium, he sits down with us, we work on our writing with him, and we can really ask him any kind of question and he's honest with us," Walbrun said.
"I've made a list of 15 different article types that we could do for our next year as a publication[…]We mainly worked on feature articles, so setting up the scene and using the right verbs, and also…detail," Walbrun said.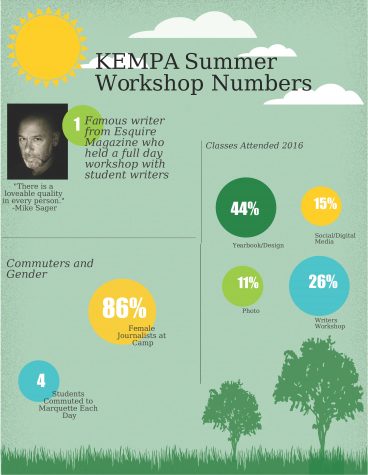 Adviser Elizabeth Miller  interviewed Abby Maliszewski from West Salem (Wis.) High School on the last day of the workshop: "The last four days I have been completely out of my comfort zone," Maliszewski said. "At first I was like, oh, I'll sign up for Writer's Workshop because it's what I do! But I just realized, if I'm already confident in my writing, I shouldn't focus on that. This has given me a chance to discover photography and video so I'm more comfortable using it next year with my publication."
Several KEMPA Kampers shared their thoughts about Summer Workshop with the teachers in the Media Advisers class.  Farrar talked to two students from McFarland (Wis.) High School:
"The (KEMPA) workshop has been extremely valuable and I have been able to take away many ideas to help us get off the ground," said Anna Larson.  Jessica Brooks concurred.  "I am excited to get back to McFarland to apply all that we have learned.  I would recommend the KEMPA Summer Journalism Workshop to anyone!"
See adviser Farrar's video with them: https://drive.google.com/file/d/0B-9oEVjqYCzNZXp3dl9HRENtSm8/view
By its end, tired but still enthusiastic students were ready to return home. "It took a lot out of everyone to not have a break from 8 am-10 pm every day," said Abby Maliszewski from West Salem (Wis.) High School, but she noted as well, "I think I was surprised by how fun it was."
Both Maliszewski and Isaac Johnson, who also writes for the Panther Prowler at West Salem High School, told adviser Kia Sosa that the people they met made this camp memorable for them. KEMPA provides an opportunity for students to network and collaborate, to learn from each other's papers and organizational systems, and develop stronger writing skills.
Sosa also interviewed Jonathan Irias from Marquette University High School. "The most memorable part of this week was getting to know everyone," Irias said. "Just finding that difference between what I do at school and what everyone else does. I'm going to try to incorporate everything I've heard that they do, but with our own flair."
With new and returning staff working diligently to provide KEMPA Kampers with the best possible journalism camp experience they could ever have, Johnson said, "Mission accomplished." A glance through #KEMPASJW16 on Twitter confirms this. From hosting one of the premiere journalists of today, Mike Sager, to a trip to the zoo and a number of fun camp activities, this year was a journey none of them will ever forget.
But as one year closes, KEMPA begins to plan for another. Join us back at Marquette University for #KEMPASJW17: The Things that Make Us,  July 16-19, 2017.
Make sure you attend KEMPA's annual scholastic journalism conference on October to receive the first publicity for 2017's camp to post in your classroom.
About the advisers in the Media Advising class:
Erik Farrar and Elizabeth Miller are the newspaper advisers at Belleville High School in Belleville, Wis.
Danielle Olejniczak is the yearbook adviser at Laconia High School in Rosedale, Wis.
Laura Streyle is the news magazine adviser at Stoughton High School in Stoughton, Wis.
Kia Sosa is the newspaper adviser at Grayslake Central High School in Grayslake, Ill.